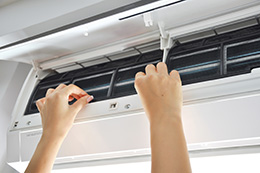 Now that you've started putting away all your old winter stuff and have started bringing out the shorts and sandals, it may be time to consider getting a regular AC maintenance appointment done. Before you even lay a finger on the thermostat to start turning the cool air on rather than the heater, you should have a Charlotte AC repair company come out and look at it. These appliances get worn down over time, specially after being stuck in one mode all winter. Turning it back to cold air after not using it for a while could cause some trouble, and that's why it's so important to have some regular maintenance done on it before you start using it avidly again.
No one likes a stuffy, humid workplace or home. It's human nature to want to be comfortable all the time, but that can be difficult when outdoor temperatures are constantly seeping in. Central air systems do so much to help you feel more comfortable at home – don't you think you should watch out for your unit and hire Charlotte AC repair services to come take a look at it before you start using it adamantly again?
It doesn't matter how hot it could end up getting. A well-maintained unit will always outlast one that is beaten up and used without any maintenance. Getting a professional Charlotte AC repair company to fix any potential vulnerability and properly maintain your unit is the key to extending its lifespan and keep your home comfortable.