We repair and install heat pumps on all types of homes in the area. If your home isn't staying warm call us to get a free estimate on fixing your heat pump. Our technicians are some of the highest trained in the area, and know how to find the real problem and fix it for good.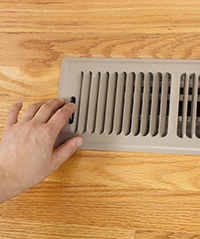 Need to get your heat pump fixed?
We're available seven days a week
Call (704) 467-6717
Heat Pump Repairs
Is the temperature in your home uncomfortable? Did you know your heat pump keeps your home cozy in all seasons — both hot and cold? So no matter the temperature, if you can't get your house feeling right, it could be your heat pump. When you call us, our expert technicians will determine the problem right away. We work seven days a week solving problems with heating systems, so you're never left out in the cold for long.
If your heat pump can be fixed with a simple repair or replacement part, we are the company that will get it done. While a number of heating companies in the area look at every repair as an opportunity to sell you a new heating system, we don't. We know that we wouldn't like being lied to about the state of our equipment, and we don't do it to our customers, either. If your heat pump can be repaired, we will get it done.
When you call us for help with your heat pump, you never have to worry that we might tell you that it needs more costly repairs than it really does. We promise to treat our clients with the dignity and respect they deserve. This is the core of how we run our business. Besides our expertise, so many customers have told us that's one of the main reasons they chose us to repair their HVAC systems, or replace them when it's come time. Call us now, we'll find out what's going on with your heat pump and show you how we can fix it.
Installing New Heat Pumps
Think of us as your one-stop shop for your home's heating system. We repair, replace and install every brand and model of air-to-air heat pumps. When it comes time for your heat pump to be replaced, our technicians will help you find the best model to meet your needs, and your budget.
Did you get an estimate on your heat pump from another company? Let us give you a second opinion. Why shell out big bucks when you don't have to? A two minute phone call to us just might be your ticket for saving thousands of dollars! And remember, your estimate is free.
Our technicians are second to none. With over two decades of experience in the business, there's nothing we can't diagnose or troubleshoot. We have seen it all so no matter what unique heating problems your home might be facing we would love to take them on. When you leave your HVAC repairs to us, you'll have peace of mind that both you and your equipment are being treated well!
Our technicians arrive in a fully stocked truck. Even if it's a replacement part you need, you're back to being comfortable today! We're licensed, bonded and insured. This way, you're totally protected when you call us for help with your heating or cooling system.
Call us before you make your decision on how to fix your heat pump. Even if it's just to answer your questions, we'll be glad to hear from you. We're at your service, any way we can help.
Looking for a heating company
That does what's best for you?
Call us (704) 467-6717
We service heat pumps in Charlotte, Matthews, Waxhaw and nearby communites.