We provide air conditioning repair seven days a week. No matter what type of AC system you have, or what the problem may be, give us a call. Our AC technicians are some of the highest trained in the area, and can fix virtually any air conditioning problem you have. We also have reasonable rates and fast service.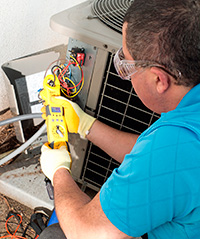 Our technicians are experts at
Fixing all types of AC systems
Call now (704) 467-6717
Air Conditioning Repair Service
With over 20 years of experience servicing air conditioners, our staff are ready to provide any repairs you could need for yours. All of our technicians are EPA certified, so we are taking every necessary step to environment clean while doing our job. If there's a way to fix your AC, we're the team to get it done!
Our trucks are well-stocked, so when you call us for fast air conditioning repair, we'll nearly always be able to get it done in one go. With all equipment and spare parts to hand, we will be able to diagnose and troubleshoot your problem fast. Not only that, but if once we've discovered the issue and given you the estimate for it, if you hire us to fix it for you, the service call is free!
With service available seven days a week, we are the company to call when you need air conditioning repair. We even have evening hours available during the week, so if you need us to come by after work, it's no problem!
AC Repair vs. Replacement
We know that not all AC companies have your best interest at heart when you call for air conditioning repair. Many see it as an opportunity to sell you a new air conditioning system, no questions asked. Well, we disagree with that, and we aim to fix yours wherever possible.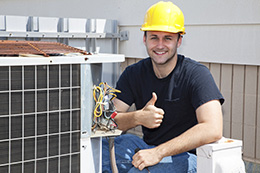 It's true that there are some problems that can't be fixed. Sometimes it just wouldn't be worth your dollar to perform a complex air conditioning repair only to have it shut off again in the near future. But if your system can be repaired, our AC technicians will find a way to do it.
We want to be the AC company you go to for life, so we treat you how you want to be treated. We know that if we deliver consistent and great service on air conditioning repairs, you'll come to us when you are ready for a new air conditioner. That's our goal; to be your air conditioning company for life.
We even have maintenance plans to help you get the most out of your equipment for less! Let us know what your concerns with your AC system are, and we'll give you a straight answer. Call us now to see how we're different than the rest, and to get a technician out to your home fast.
Not sure if your AC
Needs to be repaired?
Call us (704) 467-6717
We provide air conditioning repair in Charlotte, Matthews, Waxhaw and surrounding areas.